As a Miami wedding photographer I'm thrilled that I get to document Andrea and Jesse's very special day.
Earlier this year I had the extreme pleasure of photographing Andrea and Jesse's Miami wedding. Andrea is the third sister in the family whose wedding I photographed. Working with her family is always a wonderful experience! She and Jesse in particular were a great couple to photograph – their enthusiasm and cooperation really comes through in the pictures. Working as a Miami wedding photographer, it's always a pleasure when I get to photography couples as wonderful and Andrea and Jesse.  I hope you will enjoy the post below including photos that capture their special day, their captivating video highlight and also their own personal – and very romantic – story.
FROM THE BRIDE: It all began sophomore year 2007 at the University of Florida Sig Ep fraternity house party. We were inseparable all night and not too long after we started dating. During undergrad, we were fortunate enough to study abroad together for a semester in Madrid, Spain for 6 months. During that time we travelled to over 10 countries together including Paris, France for Valentine's Day, Dublin, Ireland for St. Patrick's Day, and Milan, Italy for Easter just to name a few of the highlights. We both have a love for travel and that experience was an unforgettable lifetime experience that we were able to share together. We then both graduated from UF with Finance degrees in 2010. I went on to pursue my Masters in Accounting in Miami and Jesse took a year off of school to study for the LSAT. He got accepted to Stetson University Law School in St. Petersburg, FL. We did long distance for a year which made us realize we couldn't be a part from each other. I moved up to St. Pete the next year leaving family and friends behind, but it was the best decision I made. We were not in a rush to get married as I wanted him to take his time and finish school. He didn't waste much time though once he graduated. A week later after graduation we got engaged in Atlantis on Paradise Island, Bahamas on May 24, 2014. Atlantis has always been a favorite destination of ours and now it will be a special place to us forever. We have been together for almost 8 years now and I can't wait to spend forever with my best friend and love of my life.
One of my favorite places to work is the Biltmore hotel in Coral Gables.  For any Miami wedding photographer working at this venue is a huge treat.  The grounds are nothing short of amazing.  Working at the Biltmore means that you have backgrounds that include, luscious landscaping, Flowing fountains, the amazing oak tree that is in these pictures.  The convention side of the hotel has an attractive staircase with pillars that make any wedding photo attractive.  This first look sequence was taken behind the hotel in a grassy area that is private and provides beautiful imagery no matter which way the bride and groom are facing. 
Once they were engaged, the next step was to select where and when they would be married. Andrea describes their search below for the perfect South Florida wedding venue and how they eventually selected the Westin Colonnade and Plymouth Congregational Church in Miami. In addition to these 2 key venues, everyone prepared for wedding at the incomparable Biltmore Hotel which offered the opportunity for them to shoot some really fabulous photos at that iconic location. Between the Westin Colonnade, the Biltmore Hotel and Plymouth Congregational Church, Andrea and Jesse had 3 superb South Florida wedding venues lined up for their special day. Each location offers its own special brand of uniqueness and each has a special Miami flair. As a South Florida wedding photographer, working in 3 such gorgeous locations was definitely a treat.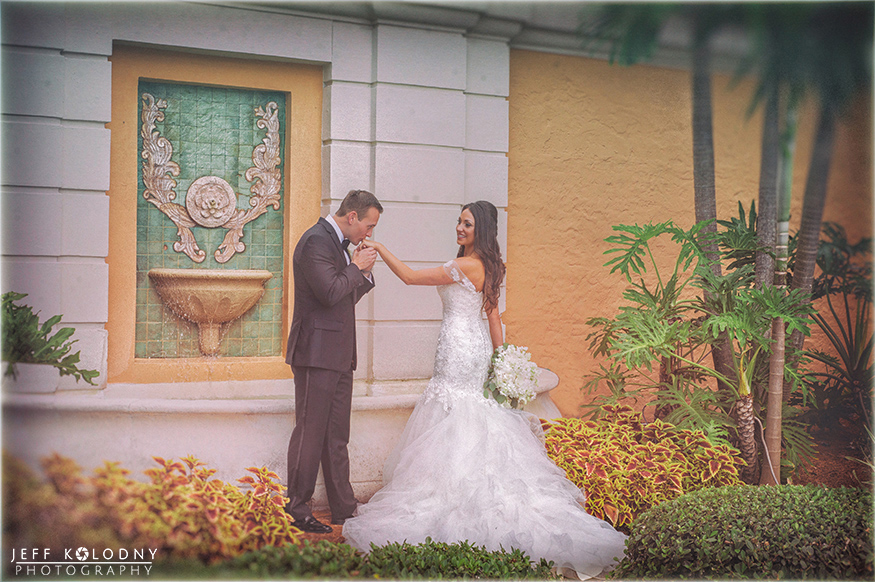 FROM THE BRIDE: How I picked my venue: We are both from the South Florida area so we were looking anywhere between West Palm Beach and Miami. We found our Reception Venue first and then the Church. We were living in St. Pete at the time we were searching for venues so we had to schedule all of our appointments on the weekends. We scheduled 4 appointments back to back in Miami. One of our appointments ran over time so we thought we were going to have to cancel the appointment to the Westin Colonnade but we were able to stop in for 15 minutes just to take a peak. Boy, we were so glad we stopped in because we were in awe when we saw the Grand Rotunda Ballroom. We fell in love at first glance and could picture our wedding there immediately. The ballroom was two stories high with a fountain in the middle. There wasn't anything about it that we didn't like so there was no question that this was it. We were then on the hunt to find a church near the venue and immediately fell in love with Plymouth Congregation Church as it resembled a castle and had an old medieval vintage type feel to it. Everything just felt so magical at both of our venues and I was able to envision a fairytale wedding that I had always dreamed of.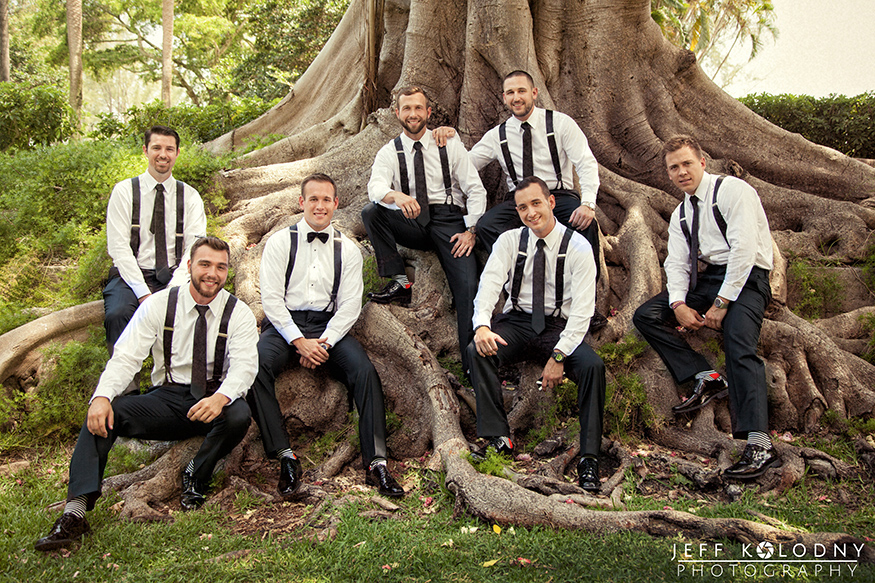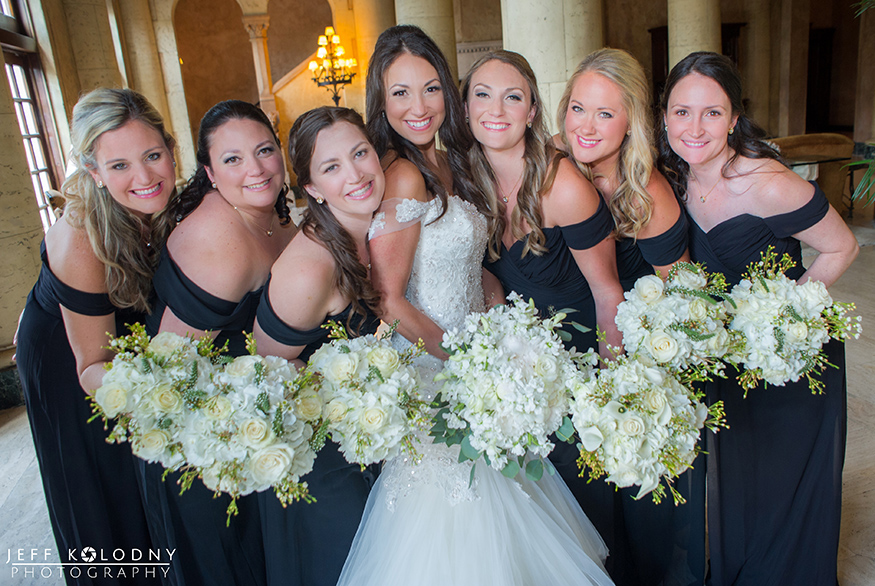 If you are searching for a wonderful, picturesque wedding venue, then you should visit the Biltmore Hotel.  The Biltmore hotel is inside a town called Coral Gables which is an upscale part of Miami.  As you could see the grounds around the hotel are very pretty and offer plenty of wide open spaces for bridal portraits and fun wedding party pictures.  Every part of this Miami venue has photographic opportunities.  When I am hired as a Miami wedding photographer I'm always happy when the venue is the Biltmore Hotel.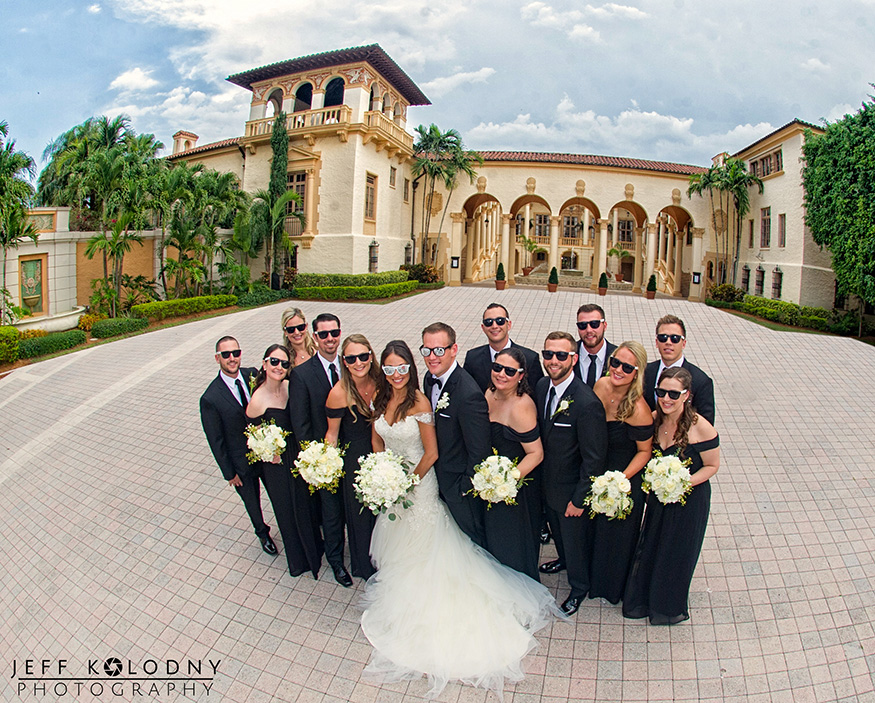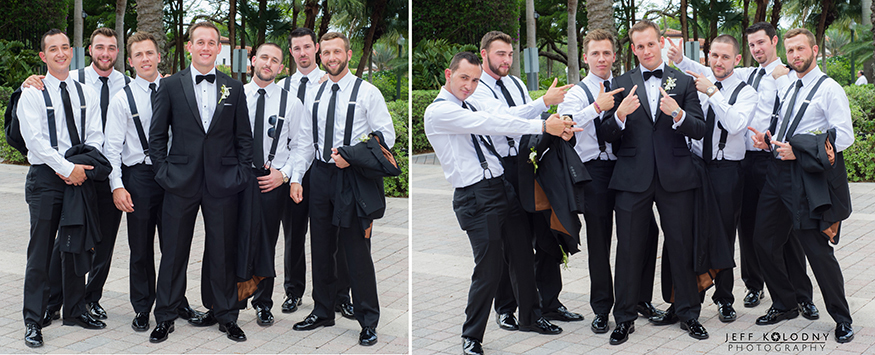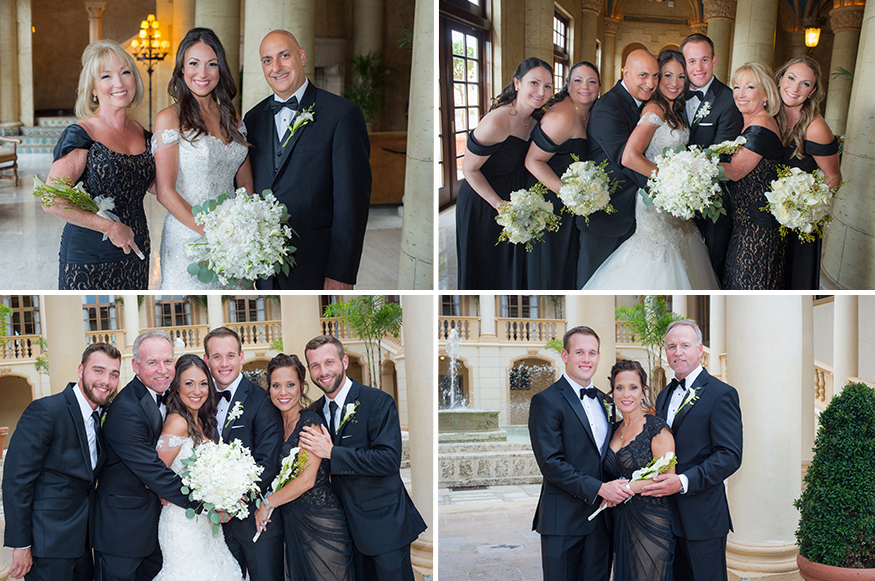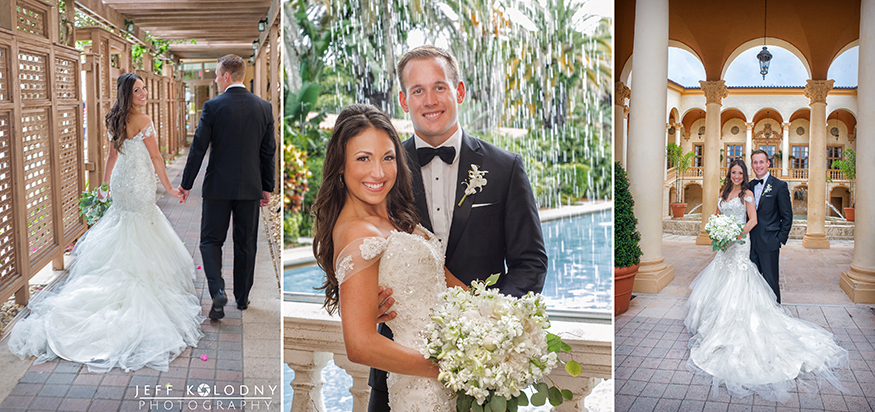 There is no question that the Biltmore Hotel is one of the best wedding venues in Miami.  Here a  link to another picture that I have taken at The Biltmore.
Bride and groom at the Biltmore Hotel. Read their thank you note here.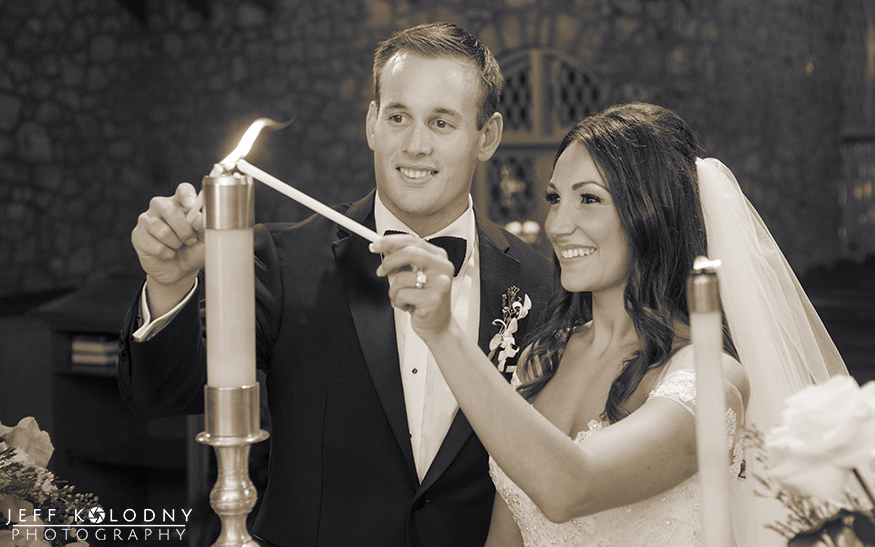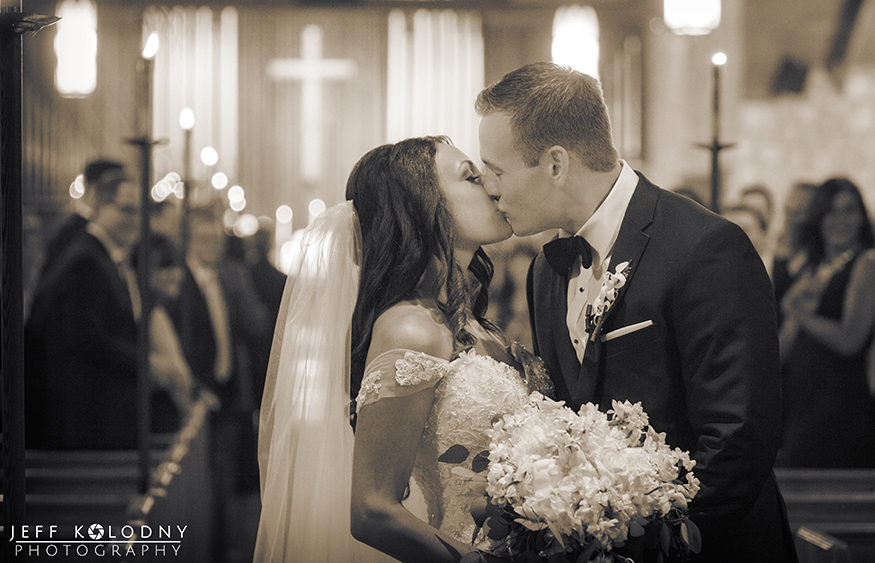 The Plymouth Congregational church is one of the most beautiful wedding ceremony locations ever.  In this Miami wedding photographer opinion this is the mist picturesque church in Miami.
Vendors: Getting Ready/First Look: Biltmore Hotel, Coral Gables, FL; Church: Plymouth Congregational Church, Coconut Grove, FL; Reception Venue: Westin Colonnade, Coral Gables, FL; Band: Euphoria; Florist: J. Adan Events; Photographer/Videographer: Jeff Kolodny; PhotoMingle: Boca Photo Experience; Specialty Linen: Over the Top; Antique Bentley Car Service: Padrino's; Trolly: Unique Transportation; Wedding Dress: Maggie Sottero from Bellissima Bride; Bridesmaid Dresses: Dessy; Groom/Groomsmen Attire: JoS. A. Bank; Invitations: Samantha Jade Designs; Wedding Planner: Weddings By Bailey