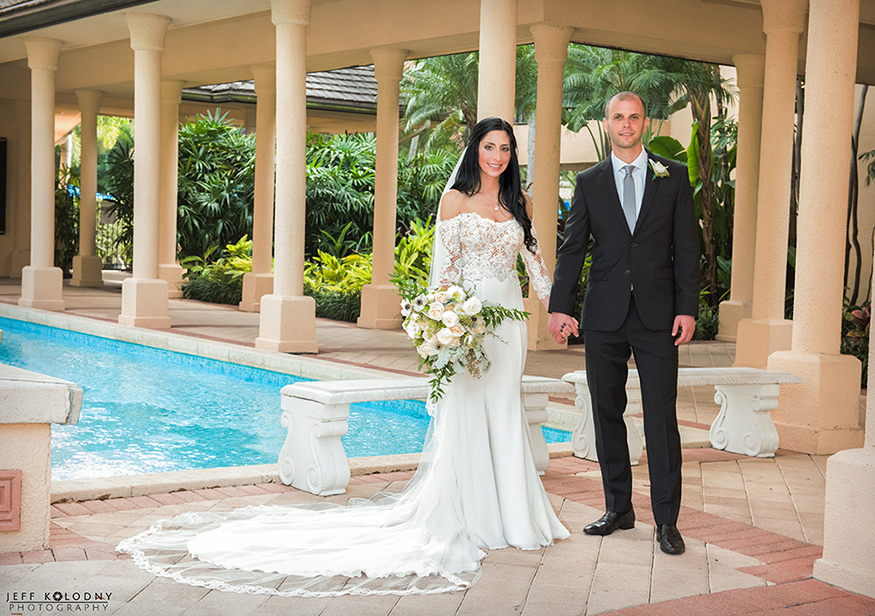 We were very excited when Stacey Feldman of Peacock Premier Events approached us about the possibility of shooting Erica and Noam's wedding. Now that it's over, I can say that it was truly a most lavish South Florida wedding! Living in New York City, Erica and Noam planned their wedding with the help of Erica's mom and of course, Stacey of Peacock Premier Events. Stacey managed all the details and made sure that the day unfolded as smoothly as possible. The couple didn't have to worry about a thing. Assembling some of the best vendors in South Florida, Stacey assisted with every detail along the way and made sure to keep everyone in check.n
n
PHOTOGRAPHER NOTE BELOW: Erica's 2 piece bridal gown hanging on one of PGA's ultra modern lamp fixtures. I find that some bridal gowns are enhanced when the light passes through the gown. Also, since this lamp used tungsten light bulbs the lamp produced an attractive warm glow. The flat side of the lamp provided a spot which made reading Bride on the custom hanger easy.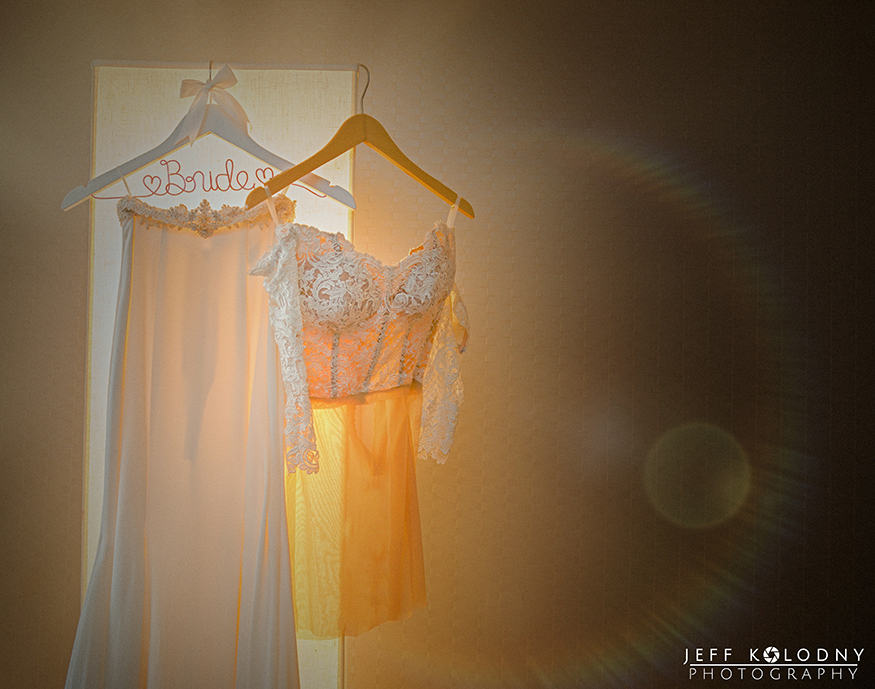 BELOW: Everyone was in Love with Erica's Jimmy Choo shoes!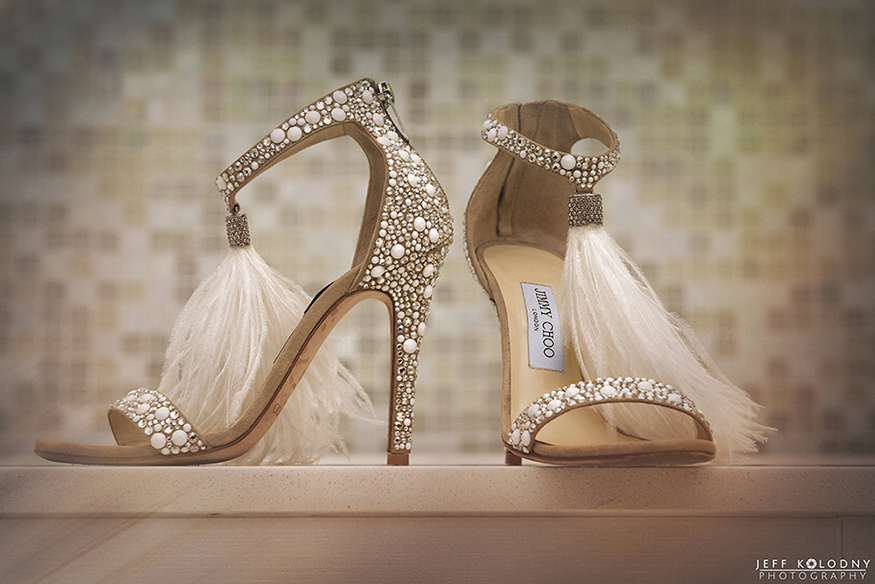 The PGA National Resort & Spa is one of the premiere places for events in the Palm Beach Gardens area of South Florida. Its lush landscape and variety of ballroom facilities make it a perfect place for a top notch South Florida wedding. Often associated with golf tournaments, The PGA National Resort & Spa is popular with locals alike who are looking for a high-end local venue to host their events. n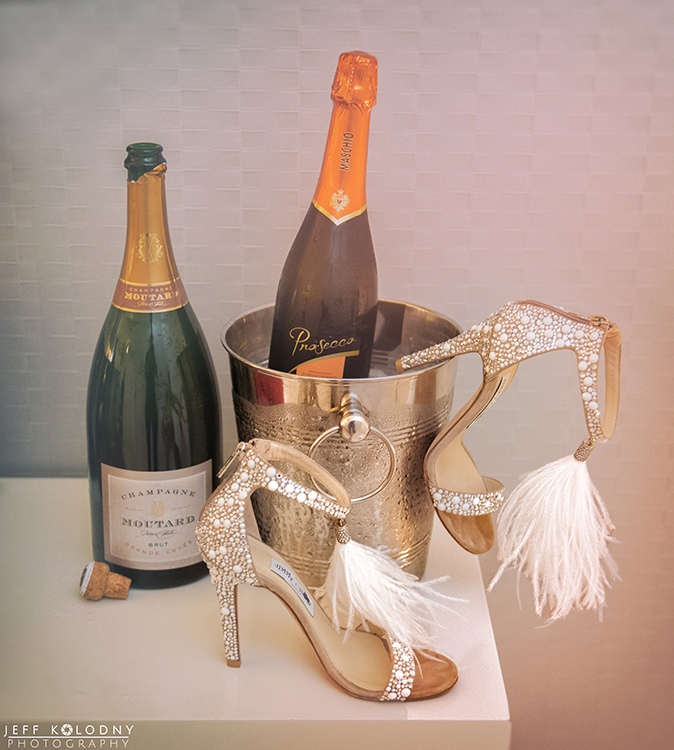 BELOW: The Spa at PGA National provided the perfect place for the Bride and Groom's First Look.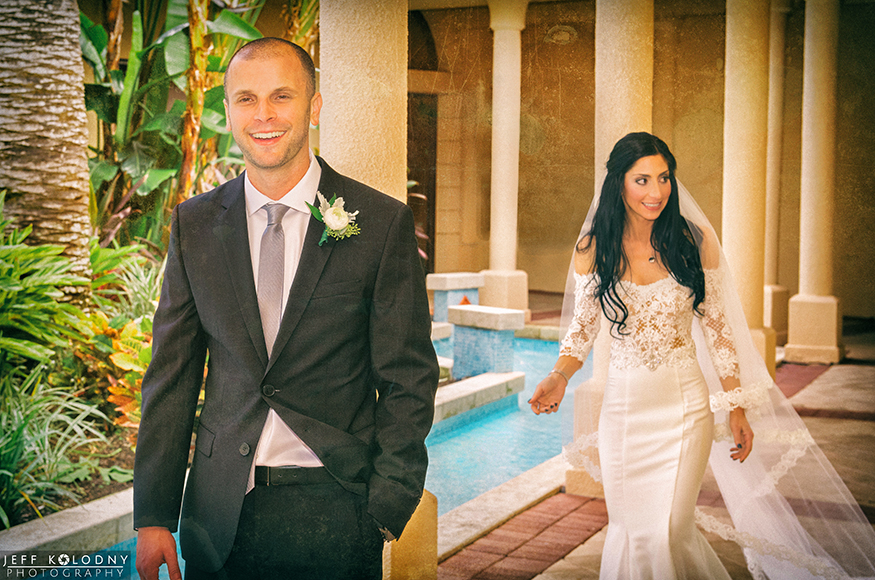 A complete vendor list is below, but here are some highlights as to who helped make Erica and Noam's wedding the incredible event it was.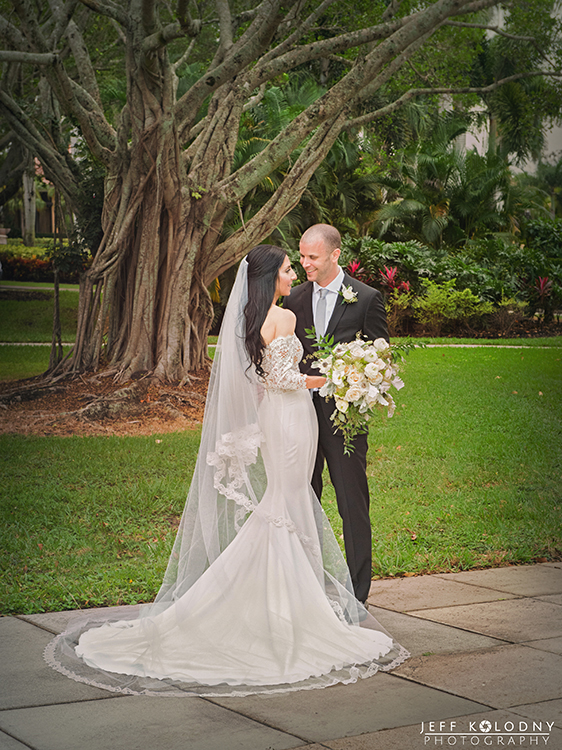 Decorating the wedding to the hilt was the work of Dalsimer-Atlas. As always, they executed the perfect vision and insured that the wedding flowers were absolute perfection.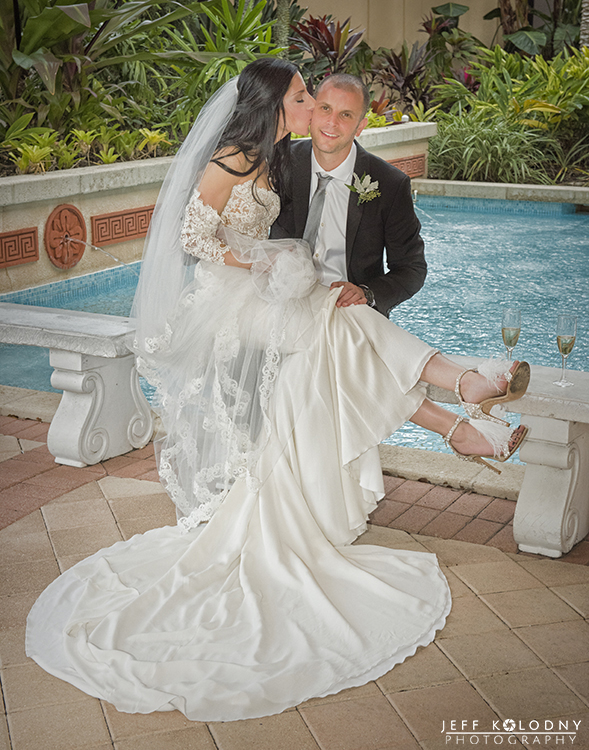 Both AA Musicians for the ceremony and cocktail music and Mike Sipe Entertainment for the reception provided music for the event. Rabbi Michael Resnick officiated for the couple. Jennifer Johnson of Johnson's Cakes designed the magnificent wedding cake. Her cakes never cease to amaze me! Always beautiful and equally tasty!n
n
BELOW: Seeing Grandmother was one of Erica's pre ceremony highlights.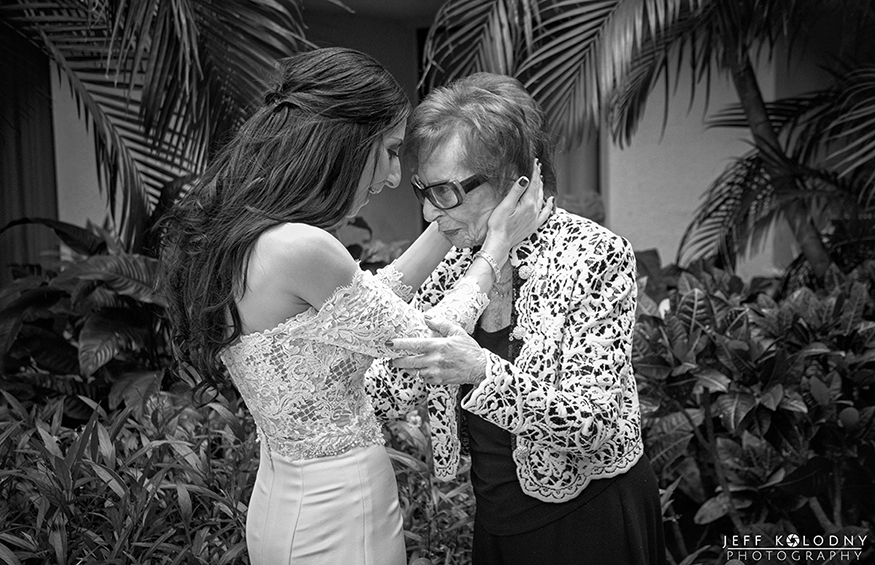 n
n
n
BELOW: This photo was taken as Erica started her walk down the aisle.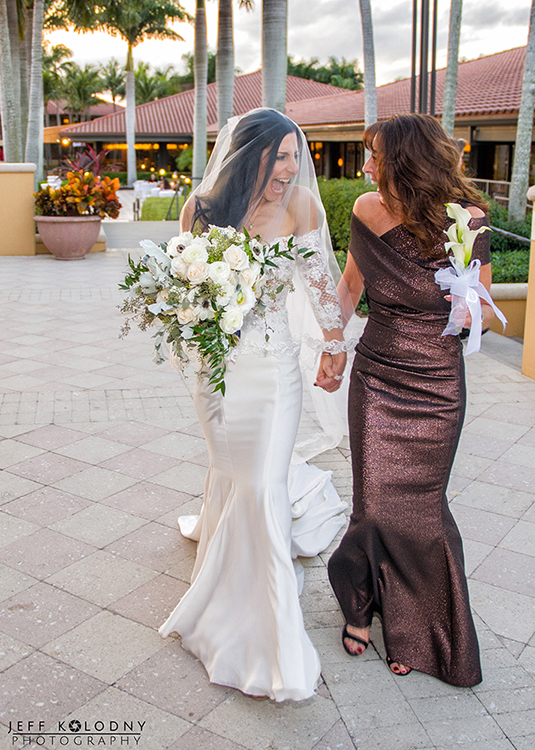 BELOW: Stacey did an amazing job creating the look for this beautiful wedding reception. The flowers were provided by Dalsimer Events.

n
n
BELOW: Nobody knows where the wedding planner "Stacey" found these amazing mirrored Mr and Mrs chairs. Since these this was a Jewish Wedding Stacey made sure the chairs had arm rests so that the bride and groom could hold on during the horah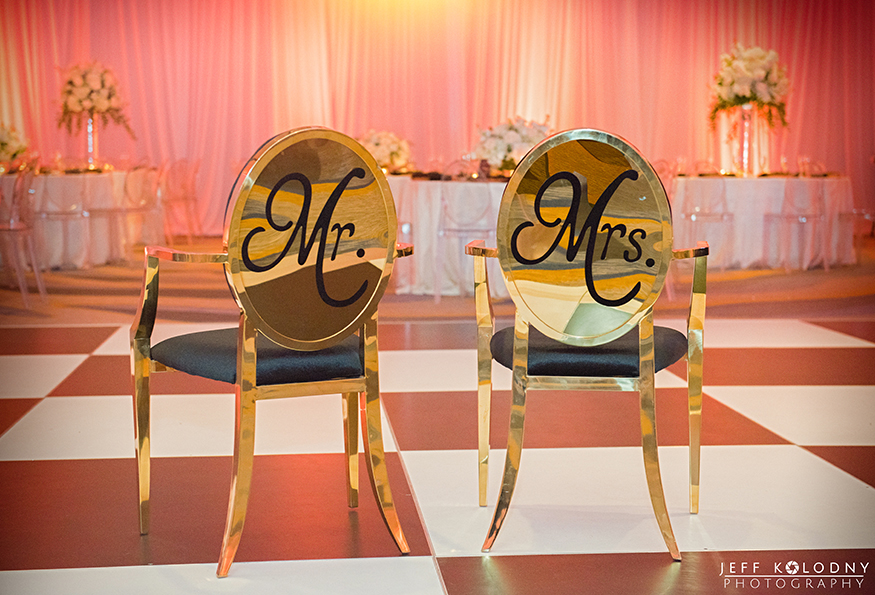 As a South Florida wedding photographer, I have worked at a huge number of local venues and I can definitely say that in the Palm Beach Gardens area, PGA National Resort & Spa is one of the best destinations anyone can select for their affair. The staff is excellent, the food impeccable and the general facilities and ambiance second to none. South Florida is a very popular location for destination weddings – especially with people who live up north. Erica and Noam's wedding was in December – a perfect time to escape the cold of New York City and get married down in South Florida! I am sure all their guests from up north enjoyed traveling to their wedding immensely! I was thrilled to be a part of Erica and Noam's South Florida destination wedding and hope to be back at the PGA National Resort & Spa photographing another wedding soon!n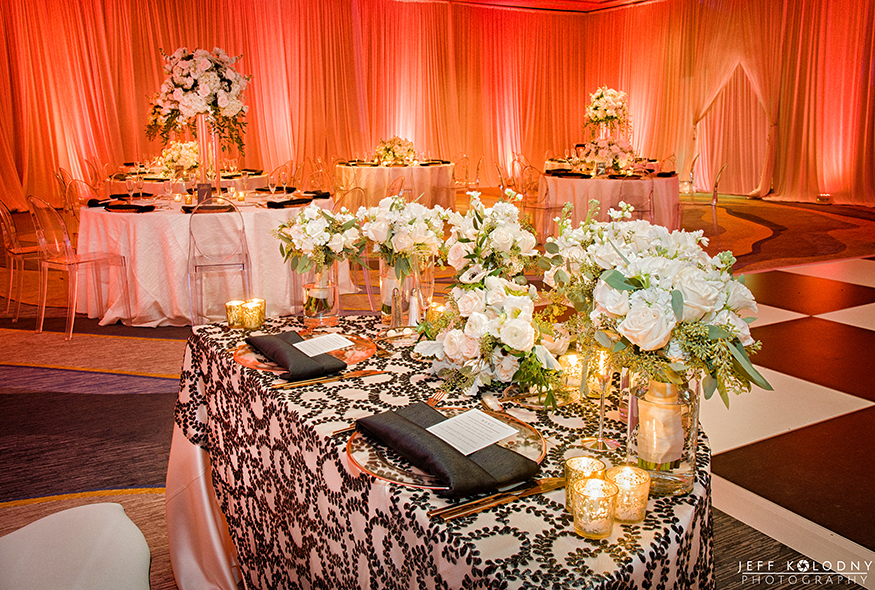 BELOW: Custom drink coasters are always a nice touch.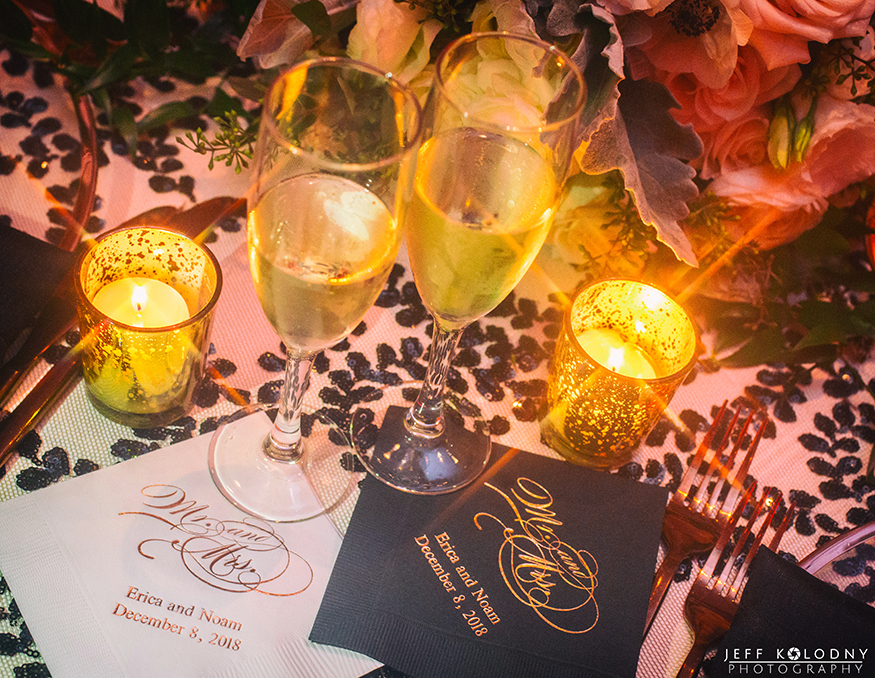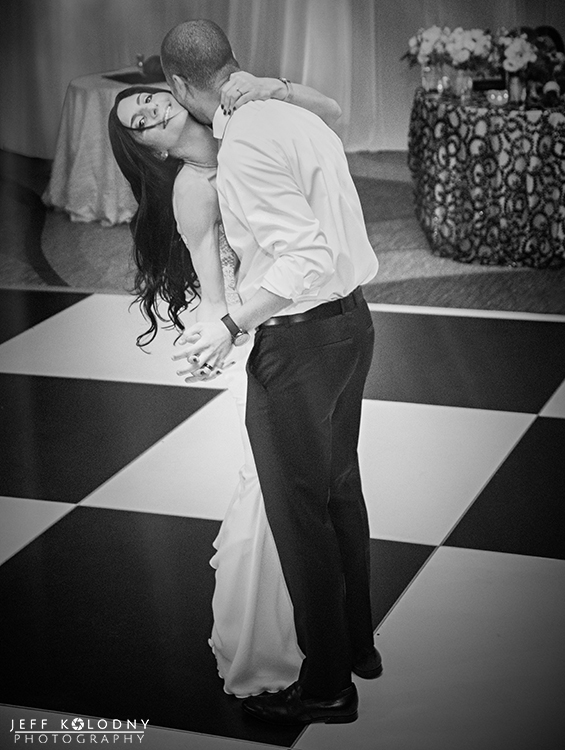 VENDOR LISTn
Venue: PGA Resort & Spa -Nickole D'Angelon
Wedding Planner- Peacock Premier Events –Stacey Feldmann
Photography& Video- Jeff Kolodny Photography & Videon
Rabbi Michael Resnickn
Florist: Dalsimer Atlas- David Dalsimern
Ceremony Sound Equip: PSAV @ PGAn
Ceremony & Cocktail String Duo: AA Musicians- Alan Andain
Reception DJ Live: Mike Sipe Entertainment- DJ Nessn
Lighting: Rays of Light- Glen MacArthurn
Reception Linens Napkins: Over The Top Linens – Amanda, Julie, Robn
Reception Ghost Chairs, Dancefloor: Imperial Event Rentals – Andrean
Draping: Drapeworks- Shawn Soaresn
Cake: Johnson's Cakes – Jennifer Johnsonn
Hair & Makeup:Jen Does my Hair- Jenny Berger,Janelle & Krystlen
Chargers: Different Look- Ali , Felix, Georgen