I love photographing South Florida weddings!
After fifteen years of living and playing in South Florida I must say I've had the pleasure of taking wedding pictures at some really amazing location  This article includes beautiful South Florida wedding pictures  If you are recently engaged and looking for a wedding location, you may find the information in this blog post helpful.
Just over 16 years ago I made the move from Los Angeles to South Florida.  I never planned on relocating here.  It just sort of happened.  While I was in LA I shot a really wide range of different types of photos.  I was a photographer for the LA City Fire Department, I shot Fashion, News, Food and products.  My clients ranged from the LA Times to Warner Brothers, to Sebastian Hair products and Redkin.  I also shot for Disney and OPI and many other luxury brands.  One client I worked for was Playboy Entertainment.  In addition to shooting for Playboy my wife worked as their marketing director.  During the years working for Playboy they sent me and my wife to Jamaica to work on promotions and photo shoots.  Playboy had a relationship with some of the resorts in Jamaica so we found ourselves shooting there several times each year.   On the way to Jamaica we had to spend time in the Miami Playboy office.  You see the Miami office is the gateway to the South American market so their marketing strategy was important.   I never knew much about South Florida other then I enjoyed visiting here.  I loved to SCUBA dive in the warm water here and the dive sites were awesome.  I dove in LA at places like Anacapa Island, and Catalina Island. Diving off the coast of LA is rough, the water is cold cold cold, visibility not so great.  However, I enjoyed swimming with the sea lions and seals.  The kelp forests of Catalina Island are beautiful.  However, even wearing a 7 mil wetsuit it was still cold and I was not certified for a drysuit.  The 7 mil wetsuit was so buoyant that I had to pack 50 lbs of lead just to get under the water.  Diving in Miami or the Caribbean Islands? No wetsuit, a 12 lb weight belt and you are exploring the reef in no time.
We had some much fun in Miami that for our honeymoon we decided to do a combo trip.  A 3 day cruise on the Majesty of the seas, a few days in Grand Cayman, and a few days at the Fontainebleau Hotel in Miami Beach.  While at the Fontainebleau I decided to stop into the sales and catering office just to say hi.  I met a lovely lady (Maria Cavanaugh) who looked at my website and said, why don't you move here?  At the time we were getting frustrated with living in LA for several reasons.  One one hand we loved living in LA but in the other hand, there are lot's of reasons to consider a move.  One day during our trip we decided to look at houses.  Coming from Los Angeles we were amazed when we considered what we got for our money here.  We lived in an eleven hundred foot earthquake ravaged townhouse in Encino CA.  Between the high cost of living and the fact that our families lived on the East Coast I decided to rent an apartment in Fort Lauderdale and see what happens.  It didn't take long for me to start booking jobs so we made the decision to make the move permanent.   Since moving to South Florida I have shot hundreds of wedding all around the South Florida area.  If you are looking for a wedding photographer in Miami, Fort Lauderdale, Broward County, Boca Raton, or Palm Beach, Give me a call.  I'm familiar with all these areas and have worked at almost every hotel and wedding venue in South Florida.  Below are some recent photos which is have taken over the past few months.  Included here are pictures from some of my favorite venues which include, The Ocean Reef Club, Parkland Country Club, The Polo Club of Boca Raton,  Broken Sound Country Club, and The Opal Grand Resort.
If you are searching for Beautiful South Florida wedding pictures, than the pictures below will provide you with some inspiration.
BELOW:  I took a drive from the South East coast of Florida to the Gulf Coast to take this wedding picture.  Even though most of my beautiful South Florida wedding pictures are taken at hotels and resorts along the east coast, even once in a while I land a job that requires me to travel to the west coast.  For this wedding we left the South east coast and drove west and north to the Sarasota area.  There we photographed a Greek wedding ceremony followed by a reception at the beautiful Selby Gardens.  The drive from Boynton Beach to this west coast Florida wedding took about 3-4 hours, we actually did the drive, shot the wedding and drove back all on the same day.  Shooting weddings in South Florida means that you never know what the weather is going to surprise you with.  The other day, I went for a bike ride, when I left at 9:00AM the weather report said sun all day. The around 12:00 noon, storm clouds appeared. By 12:30PM I was soaked.  It rained and rained until about 2:00PM when, as if someone turned off a faucet, the rain stopped and the sun came out.  The same sort of situation developed at this South Florida wedding, it was sunny all morning, then around 3:00PM it got a bit cloudy, while I was capturing this wedding picture it started to drizzle, the even though the wet stuff was starting to fall, it was still sunny, then about 15 minutes after I took this picture, it down-poured.  As a wedding photographer, I'm going to get the great shots, even if this means getting wet.  So, I got wet.  This is the fun and excitement of being a South Florida wedding photographer!  If you love photography, and adventure, and are not afraid of  little, or a lot of rain, then you could get these types of images.  This whole situation is not that different from an engagement shoot I did at The Morikami Gardens.  Check out these pictures taken of bride and grooms in the rain:  Wedding pictures in the rain.   Hey, you can't control or predict the South Florida weather.
BELOW: 
Amanda and Zac were so nice to photograph. Amanda is one of those brides who really really cares about the photography. She hired a great wedding planner. www.julietyoungproductions.com Juliet, worked with me to create the perfect timeline. You may ask, What is a perfect timeline? A perfect timeline allows enough time for the bride to get her hair and make-up done without rushing, and still leaves plenty of time for the bride and groom's first look and for the wedding pictures.
Their wedding took place at Parkland Country club, in South Florida. Parkland Country Club has one of the most beautiful front entrances with waterfalls, fountains and even a small lake. The club house is a short ride down the road. However, Parkland Country Club always has golf carts standing by to shuttle the photographer and the bride and groom to their photography location.
After the first look we took the golf cart to the lake and fountains for a 45 minute photoshoot. When we finished taking pictures we rode the carts back leaving plenty of time for family and bridal party pictures.
As you could imagine, the flowers were beautiful and the ceremony was not only beautiful but also emotional. As a wedding photographer, I couldn't have asked for a better day, or a nice couple. There is no question the Parkland Country club is a great place to get some really beautiful South Florida wedding pictures!  If you check out my new website or my instagram feed you will find more photos from Amanda's beautiful wedding.
BELOW:
Ella and her Girls,
The second I walked into The Polo Club I knew this was going to be a great wedding. I always show up early and check out the ballroom. The first thing I saw was the amazing flowers and a completely draped ballroom. Now don't get me wrong. The Polo Club in Boca Raton is a beautiful wedding venue that really doesn't need draping. However, in this case the bride has decided on a color theme and a design, draping the ballroom allowed for her to include the walls into her vision. After chatting with the event planner,  Joni – Your special day by Joni.I went to see the bride and her girls in the getting ready room. (Bridal Room)
The bride and bridesmaids were fun, active and willing to do whatever it took to help me get the perfect shot. So, I had this idea. We stacked up the girls and made this photograph.
The photo below was taken during the wedding portrait session. Ella and Nick's ceremony took place in 1/2 of the Polo Club's huge ballroom. The wall were draped in white which made using bounce flash a no brainer. So I placed the bride and her bridesmaids closer to the white wall which allowed me the photograph them with this beautiful soft light. First I posed the girls in a more traditional standing position. Then after I got my shot, I decided to have one of the bridesmaids stand back to back with another girl. The all thought it was odd that I did this. After, I gave the girls the "Trust Me" I had them do a group hug which forced the bridesmaids together. Awkward for the back to back girls. The idea was the the awkward stance would create a situation where one girl had to fall on to the next girl. This created a fun spontaneous look. I thing this works! Ella still has the option of using the more traditional pose in her wedding album is this shot doesn't work for her
BELOW: Lindsay and Seth has a fantastic wedding at Broken Sound Country Club in Boca Raton.
I'm always excited when I get a call or e-mail about a Broken Sound Country Club Wedding.
The photo below was taken during the First look. The First look is when the bride and groom see each other before the ceremony for the purpose of getting all the posed pictures out of the way so that the bride and groom can enjoy their wedding cocktail hour and wedding reception without having to go back and do more photos. There is many more reasons for doing the first look in addition to not having to so posed photo, but that is for another post.
Lindsay and Seth had a jewish wedding ceremony which meant that the ceremony didn't take place until after sundown. Sundown Jewish wedding ceremony's are kind of unique because it's daylight when the ceremony starts and dark by the time the ceremony is over. Wedding guest are treated to seeing the wedding canopy go from being lit by evening sun to being lit by beautiful colored uplighting or spotlighting.
If you would like to see more from this wedding and more beautiful South Florida wedding pictures, read the article in Modern Wedding. I had it published in Modern Wedding!  Here is the  Modern Wedding Article
BELOW, Just Married at the Polo Club of Boca Raton.
This wedding photo was taken during my last wedding before the Coronavirus hit.  I'm really glad this is one that did not reschedule.  It was really a fantastic wedding with awesome flowers and a great bride and groom.  After this wedding all my future weddings which booked before  August have selected new wedding dates.  Needless to say the Coronavirus has created a huge disruption the the wedding and event business.
BELOW: South Florida is home to a huge amount of beach wedding venues.  The entire coastline is lined with hotels, country Clubs, Beach Clubs, Swim Clubs and most hold weddings.  What I Love most about working here is that it's so easy to take a wide range of beautiful South Florida wedding pictures the vary vastly from location to location.  This picture was taken at one of the more unique wedding venues located in Broward County.  The Hillsboro Club is located on a very nice stretch of beach and has a lighthouse at the end of the beach.  It's one of the less popular South Florida wedding locations, most likely because it's sort of tucked away in a less popular part of Broward County.  Even though it's not as popular as some other venues, it's still a great wedding venue and it's worthy of a site visit if you are looking for a beach wedding location.  I would recommend couples build in some extra time for picture taking because there are many different places to shoot at the Hillsboro club.  Whenever I work at the Hillsboro club I made sure to get pictures of the lighthouse and plenty of pictures that shot the ocean view.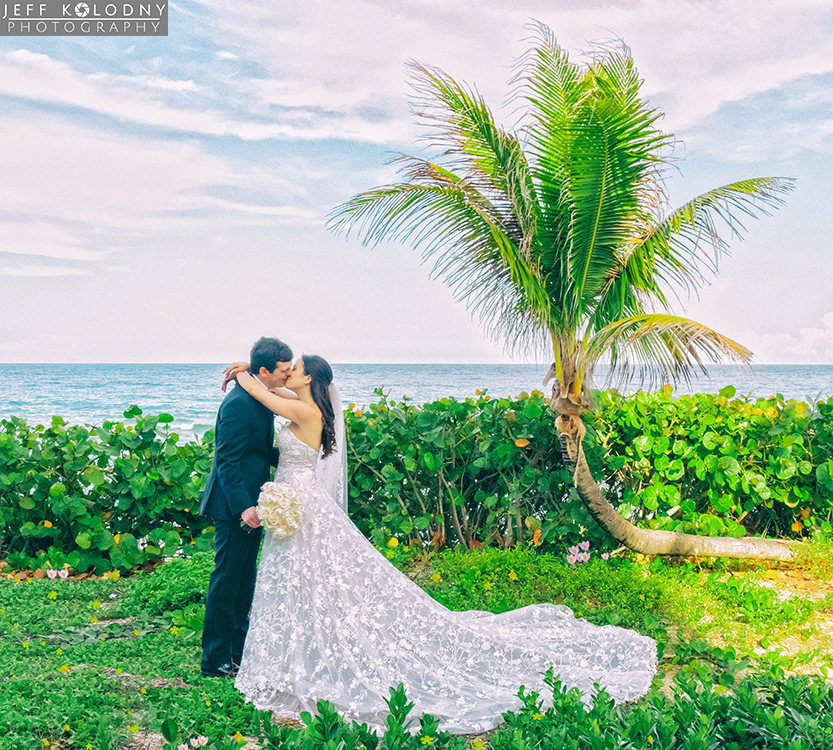 BELOW: Bride and Groom wedding photo taken at the New Opal Grand in Delray Beach, Florida.  
This picture and the included lovely thank you note was part of a make up photo shoot in which the bride and groom hired me to get some pictures that a different photographer (not me) missed during their wedding.  In addition to taking the pictures I also retouched the other photographers pictures and created a beautiful album.  By working with this couple to create a beautiful album they can relive the special moments that made their wedding such a special day.
If you want to see even more of my latest photography follow me in My Instagram feed.  I try my best to post to Instagram every day.
If you would like to see some more of my favorite image check out these:  Old gas station wedding picture. This is one of the oldest pictures on my website.  I shot this wedding picture at an old movie set gas station in LA.  South Florida wedding photographer bridal shoot.  I took this image at the W Hotel in Miami. Delray Beach wedding picture. I love creating depth in a photo by shooting interesting colorful foregrounds. This photo was taken at the New Opal Grand hotel.